Being sick – chronically – on and off in severity has made it that I too have had my fair share of endless isolation.  Some of it in an attempt to not catch anything from others, most of it because I had NO energy/too much pain to do anything, or to try and leave the house.
Having a day or 2 off from work seems at first a luxury. But when you know that you can't really leave the house – it does start to feel – FOMO-y — starecrazy — what to do? What are you missing out on? As humans we are naturally supposed to socialize, be a community. Without others we begin to feel lost. Happiness only really exists when shared. That's why loneliness is such a killer and a huge issue.
It's probably the best time ever – in history – to be self-isolated.  You can do online shopping, have endless libraries of music, movies, shows, audio books, e-book, journal articles, random youtube videos & tiktoks. You can get your food delivered, do your HIIT work out in your living room, take up gardening if you are lucky enough to have a garden, learn how to draw or play the guitar by following online tutorials. You can finallllly get to the time to read those books that are piling up on the bedside cabinet.  and we can video chat to friends & family, or endless messages to one another if we so wish.
But with this comes great responsibility. Endless news streams on TV can become doom & gloom. Sending people who are already struggling into anxiety.  Many of us – who are on zero hr contracts, or causal contracts, or self employed will be worrying about money if we end up having to be isolated.   Many of us will have loved ones (or are in) a high risk catogery and we will be worrying about them, and the people on the frontline. We can sit down to watch a show – and waste a whole 45 mins deciding what we want to watch because in many ways – there is too much choice. or the illusion of such. sometimes we want to read but our brain feels too fuzzy to concentrate.
So this here is my crib-sheet to maximizing time – coming with good recommendations. a So you can maybe hoepfully be able to cut out some of the anxiety and indecision and begin to enjoy some of this extra time. The extra time gained from not being stuck in traffic, not being on an endless delayed northern rail train home, not being stuck in a meeting that never should have been a meeting.
I hope you'll enjoy the Smizz fun/hopeful/uplifing/easy to engage with recommendations!
TV SHOWS
Parks & Rec – Amazon Prime/ NowTV / Sky –  A CLASSIC: People going out of their way to help each other. It doesn't get any better than that.
Sex Education (Netflix) – The second season builds on what made the first series so good. It's confident, funny and surprisingly deep.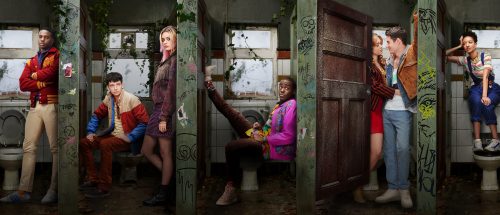 My Left Nut (BBC Three, iPlayer) – About a teenager who realises that he has an enlarged testicle. It morphs into a tender, heartfelt drama about grief and anxiety, and how your family will stick by you through the bad parts as much as the good.
Brooklyn Nine-nine (Netflix, 4OD, SKY) – NINE-NINEEE! you can re-watch, over and over any episode – but you will laugh and you'll love every single character & the jokes never get old. What can I say, Michael Schur is an incredible empathetic comedy writer.
The End of the F**king World (All4) – My friend Helen says she loved this show. So I gave it another chance, & realized its perfect for these times.
Midsommer Murders (ITV2, BritBox, ITV Hub) – My mom love to watch this show – not particularly because it's good – but because it's kind of ridiculous, which makes it funny ( see Martina mcutching get murdered by cheese in series 18) & it's a really good game if you're watching alongside others to figure out who the murder is – and even harder – what is their motive!
The Bold Type  (amazon prime S1-3)- fans of The Devil Wears Prada-meets-Gossip Girl-meets Ugly Betty – will LOVE this. It's hard not to love the characters. why do i love this show? its portrayal of the refreshingly supportive friendship of its three protagonists, as well as its frank look at complex contemporary issues like #MeToo, reproductive rights and of course all the drama that goes with being a twenty-something building a career and looking for love in New York City.
Ugly Betty (S1-4) Amazon Prime – Of course, I can't miss this off the list. I LOVED this show so much when it first came out in 2008 when things all felt uber hopeful. Betty will make you believe again. I watched this show, and saw my own struggle – how do you enter a highly elitest, competitive, expensive cultural field such as fashion (art) and keep your own values, sense of identity without doing your own heritage and diversity down. What does that elitism do to us culturally? A show so woke before its time – it could have been written yesterday & not nearly 10 years ago – and it's wild to think these issues have barely been solved since. It's high energy, bright clothes, lots of melodrama, best written characters and BIG DREAMZ OPTIMISIM DOING THE RIGHT THING energy-vibes are just what you need.
Instant Hotel (Netflix) – I watched this when I was super sick as just something to fall asleep to. Before I knew it, i had blasted through 2 seasons. I wish I could get to see a 3rd season. Think 4 in a bed, meets changing rooms. IN a hot austrialian climate with people wanting to have the best airBnB basically,
The Great British Bake Off – (4OD, Netflix) – There's never been such a more pure TV show. A competition but ultimately a group of people who love baking end up being awesome friends! Delicious food, super funny outcomes, great team work, bit of the best of britishness – Raising money for stand up to cancer episodes are sooo good & I think the New Years 2020 Derry Girls episode is the best in history.
Derry Girls (S1+2 4OD, S1 Netflix) – Another wholesome amazingly written comedy. The specific setting gives Derry Girls its extra layer of complexity, as well as some of its funniest lines. By and large, life in all its unimaginable and bizarre glory goes on. The writing by creator Lisa McGee is top-notch, the show's searing one-liners and tonally perfect '90s soundtrack as fantastic as its predominantly female cast. The series maintains a reckless and irreverent tone and is never weighed down by politics or nostalgia. But it will take you back to growing up in the 90's, early 00. And you'll love every second of the show but it goes past way too fast.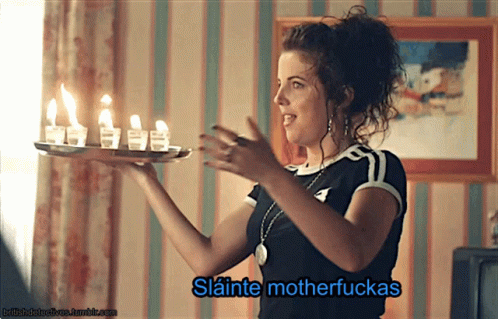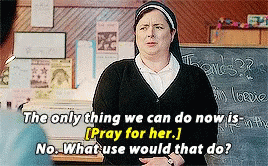 HOME – (s1+@ 4OD) – A comedy series written by and starring Rufus Jones deftly gets to the essence of home and family through Syrian asylum-seeker Sami. One of the issues with Brexit, and austerity etc is that we don't really have touching cultural examples of it. It's not really on TV or in the movies. But HOME does, and it does it so-so well. It has the potential to turn those Daily Mail readers into opening their homes to refugees.   This show shows the very worst and very best parts of living in the UK. It makes you route for everyone. And it'll make you laugh and cry.
Please Like Me (Amazon Prime, netflix with a VPN) – Spend enough time around the show and it starts to grow on you in a mainstream 80s BBC sitcom kind of way. It's a wry, down-to-Earth and often-moving account of how relationships with friends and family evolve as we grow into adulthood. Watch it for the real, difficult, compassionate Josh's role as a young carer. Start it and stick with it.
Special (Netflix) – i freakin' love this show. Masterful in 15 minutes bursts – which makes it one of those perfectly lengthed shows to watch before you go to sleep. aside from the show  is vastly significant in terms of what it does for representation in the mainstream culture, provides me, and other disabled and marginalized people, with a much-needed piece of representational belonging. It's so loving and thoughtful, and ultimately it is not about accepting oneself. It is about showing oneself as you are.
Schitts Creek (Netflix, 4OD) – Maybe the most perfect comedy of our time? Every person in this show are the best.  As the series goes along, it's less about class difference and more about a place where community welfare flourishes outside traditional systems of power.
MOVIES
Love, Simon (Sky) 2018- At its heart, this is simply a story about love and tolerance and honesty, and told with a perfect dose of each of those things. You can watch it & it'll remind you so much of growing up. What really makes this film a feat of queer cinema is how ordinary it is. It's a love story between two men, but without tragedy and angst, seeming quite radical for how sweet it is. Dope soundtrack.
I LOST MY BODY (Netflix) 2019 –  A disembodied hand tries to make its way back to its owner while a young man searches for connection after a traumatic event. It mixes brilliantly creative action and horror sequences with tender heartbreak and life-affirming drama. Go watch on Netflix!
THE REPORT (Amazon Prime) 2019- So, yeah, maybe I really love movies about people obsessed with the truth who fight institutions trying to hide it. Burns said the film is about our current "crisis of accountability" and it's rare to come across a film that's as involving as it is necessary. One for the times! It's brilliantly engaging.

Late Night (Amazon Prime, Sky, NowTV) 2019- Thompson and Kaling don't even need to be acting here. Like all women, they've long had to navigate real-world misogyny. But they also know how to find the humor in it. An important movie that looks at the issues of sexism in comedy (& entertainment industry generally) but with a good laugh.
Booksmart (Amazon Prime) 2019 – An underrated awesome movie. Underrated because it's about 2 strong girls. It's more John Hughes than Judd Apatow, and it's a little more Bridesmaids than Lady Bird. Booksmart is feminist, foul-mouthed and funny, turning the formulaic tropes of bawdy comedies inside out and giving us a couple of teen heroines who feel real and very 2019. It felt new from friends at the centre of the story to the celebration of female intelligence, ambition and loyalty.
Finding Your Feet (Amazon Prime, Sky, NowTV, Netflix) 2018 –  I accidently watched this on the plane to the USA – when it told me it was a comedy. And it is. But it'll also make you cry.  Watching it demands little effort. Evict your inner cynic and enjoying it should demand even less. It's a bit sentimental, but I am *SO* there for it. The bright and funny first half examines issues affecting older people which are often ignored; The second is about making sure you don't regret how you've spent your time.
Chef (Amazon Prime, Netflix) 2014 – an enjoyable and good-natured farce is a rarity in that (as its title tells us) it takes a chef as its central character and treats his profession with something approaching respect. The result is a small, unashamedly feel-good film that makes up for what it lacks in dramatic jeopardy with gentle comedy, heartwarming family scenes, ladles of food porn, and time spent among characters you like.
Paddington (1&2) (Sky, NowTV & Amazon Prime) (2015 & 2018) – I'm not being ironic or weird or contrarian – but Paddington movies are some of the best movies of the past 10 years. It is simply (Pad 2), without hesitation, was my favourite film of 2018. It's an eye-popping, laugh-out-loud, clockwork-constructed endorsement of kindness, forgiveness, and good ol'-fashioned human empathy. Or… ursine empathy.
The Green Book (Amazon Prime, Sky) 2018 –  roast me for this, but I don't care. A by-the-numbers studio movie and the numbers are great. The interplay between the two leads is a fantastic and familiar dance; every detail is exquisitely rendered.
ROMA (Netflix) 2018 – A bracingly human story set against abrupt, nearly-surrealist acts of God and society. The cataclysms only serve to underscore the fragility of the world and the strength of our personal bonds. Sad I never got to see it on the big screen myself.
PODCASTS
Alex Edelmen's Peer Group – https://www.bbc.co.uk/programmes/b08smc1c – Alex is maybe one of the best comedians of our generation and he's just getting started. This is such a great comedy podcast that looks at issues surrounding Millenials specifically, he does quite a bit from his current set on his current tour within some of the episodes, so worth a check out for that alone!
The News Quiz – https://www.bbc.co.uk/search?scope=sounds&filter=programmes&q=News%20Quiz&suggid=urn%3Abbc%3Aisite%3Acurated-m-o%3Anews-quiz  – every friday night – i look forward to catching up with comedy and news. takes the edge off. 
No Such Thing As A Fish –  https://www.nosuchthingasafish.com/
Could this be the best Podcast ever? Want some crazy facts to give people randomly but enjoy them in a bask of comedy discussion? This is for you. Plus there's 300+ episodes to go through.
My dad wrote a porno – https://open.spotify.com/show/6nYCARKKZ5UvaUedL6KEu3  — A series in which Jamie Morton reads out chapters from the erotic books his 60 year-old dad has written.
MUSIC
WORKIN' FROM HOME PLAYLIST
Here's my work from home playlist – it's collaborative – so you can your own tunes to it. But the only rule is the song has to be your best/fav songs since 1990 onwards.
RUNNING PLAYLIST
If you're going to go for a run. here's my 10k inspired playlist that's long enough to run a fast marathon
JAPAN VIBES
studio ghibli soundtrack amazingness to feel sad, happy, and relaxed all at the same time
THE RISING GIRLS CLUB
A playlist to help inspire all you females out there. You're strong and you've got this
I'll update this as I go along, but I hope this helps!
Remember- wash those hands often and super well. Stay safe and keep checking on neighbours and those who need extra help. And reach out if you feel everything is getting too much.